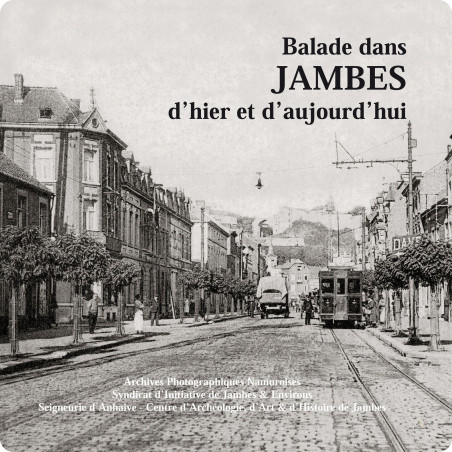  
Balade dans Jambes
120 pages – Format : 22 x 22 cm 
Papier : couché demi-mat 150 grammes 
Impression en bichromie
Cousu au fil de lin 
Couverture carton illustrée avec pelliculage mat

Secure payment by debit or credit card or bank transfer (account BE92 0011 9229 7223)
The books are delivered to you at a depot, your home or your office.

Contact us if you would like more details about our products or ordering methods.
Voici un nouvel ouvrage de Daniel Franquien qui paraît sous le titre évocateur de Balade dans Jambes d'hier et d'aujourd'hui. En moins d'un siècle, Jambes a en effet connu une expansion impressionnante comme en attestent les documents rassemblés par l'auteur. On constate qu'à la charnière des deux siècles derniers, Jambes s'urbanise et s'oriente vers la modernité. Sa plaine maraîchère est réputée pour ses produits de qualité mais dès la fin du XIXe siècle sa superficie se fera grignoter par des constructions nouvelles. Les archives communales montrent le souci constant des édiles communaux de positionner Jambes dans une dynamique de progrès. Elle débutera par la destruction des fortifications et le développement de l'électricité. Les deux lignes de chemin de fer, la Meuse et l'amélioration des routes permettront à la cité de progresser. La population augmente d'ailleurs de manière significative.
Plus d'un siècle plus tard, l'on vous propose parcours ou balades, quoi de plus normal !