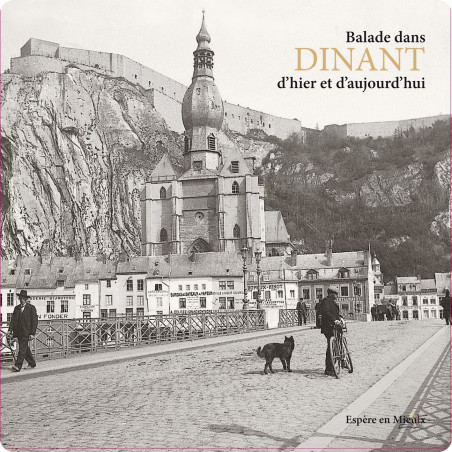  
Balade dans Dinant
120 pages – Format : 22 x 22 cm 
Papier : couché demi-mat 150 grammes 
Impression en bichromie
Cousu au fil de lin 
Couverture carton illustrée avec pelliculage mat

Secure payment by debit or credit card or bank transfer (account BE92 0011 9229 7223)
The books are delivered to you at a depot, your home or your office.

Contact us if you would like more details about our products or ordering methods.
A plus d'un titre, on a souvent rappelé toute l'importance de la préservation des documents photographiques anciens car ceux-ci constituent des « instantanés » de scènes de vie passées. Ils sont d'autant plus précieux qu'il arrive bien souvent qu'ils soient les derniers témoins d'un contexte paysager ou patrimonial disparu et l'on sait à Dinant, après le tragique mois d'août 1914, tout le sens que prend ce propos.
A travers cette publication, ce principe de conservation trouve ici une belle opportunité d'être mis en valeur. Fruit de patientes recherches documentaires entre des collectionneurs, les Archives photographiques namuroises, le Centre culturel régional de Dinant et Espère en Mieulx, cet ouvrage vous plongera dans la cadre de vie des habitants de Dinant et des villages au tournant des XIXe et XXe siècles. J'adresse mes sincères remerciements à toutes les personnes qui ont œuvré, de près comme de loin, à la réalisation de ce livre.
Pascal Saint-Amand
Président d'Espère en Mieulx