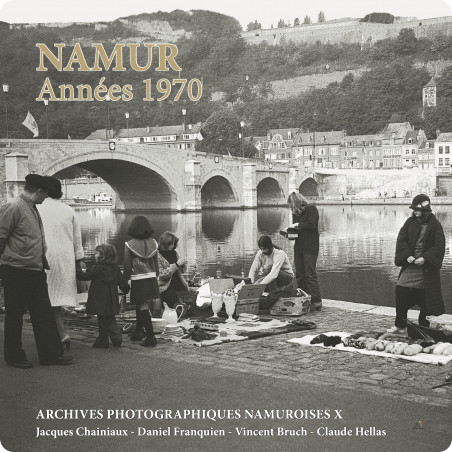  
Namur Années 70
120 pages – Format : 22 x 22 cm 
Papier : couché demi-mat 150 grammes 
Impression en bichromie
Cousu au fil de lin 
Couverture carton illustrée avec pelliculage mat
Auteurs: Jacques Chainiaux, Daniel Franquien, Vincent Bruch, Claude Hellas

Secure payment by debit or credit card or bank transfer (account BE92 0011 9229 7223)
The books are delivered to you at a depot, your home or your office.

Contact us if you would like more details about our products or ordering methods.
Namur, les années 70, un titre ciblé sur une photo de la rive de Meuse côté Jambes en guise de couverture! Point d'erreur mais un clin d'œil au "Grand Namur", une réalité administrative et cartographique depuis 1977. Une appellation désuète qui en ferait sourire plus d'un aujourd'hui.
Cette nouvelle publication des Archives Photographiques Namuroises aux Éditions Studio Real Print s'inscrit dans la droite ligne de deux albums précédents consacrés aux années 50 et 60. De nombreux lecteurs ont réclamé une suite, un exercice qui s'est pourtant révélé plus ardu car le recul dans le temps s'est réduit, ajoutant ainsi une certaine partialité dans le choix des photos.
Au niveau technique de la photographie, les années 70 forment la charnière entre l'emploi du négatif 6x6 et le négatif 24x36, entre la propagation de la couleur au détriment de l'excellence que représente le noir et blanc. Aussi, notre choix s'est porté sur les photographies en noir et blanc qui restent le support utilisé par les photographes professionnels tels que Pierre Dandoy et Émile Pierre mais également par les amateurs éclairés comme Jacques Bouton. Il faut aussi rappeler que les journaux quotidiens de l'époque ne paraissaient pas en couleurs.
La même technique était toujours utilisée pour les travaux préparatoires des architectes et dans le cadre de nombreuses publications. Nous avons le plaisir de pouvoir partager avec nos lecteurs un fonds particulier versé aux APN, celui du chanoine André Lanotte (1914-2010). Impliqué dans la vie namuroise et dans la Commission royale des monuments et sites de Belgique, André Lanotte a patiemment photographié le patrimoine namurois, laissant ainsi une abondante iconographie qui a servi les études préalables aux grands chantiers architecturaux.
Nous vous invitons à parcourir ce livre en laissant libre court à vos souvenirs et à votre imagination. Les photographies forment ensemble une promenade dans Namur, sans oublier Jambes, un choix retenu car il n'enferme pas le lecteur dans une thématique. Prenez donc la liberté, un mot bien présent dans les attentes des années 1970, de vous promener dans le temps, peut-être avec un brin de nostalgie.